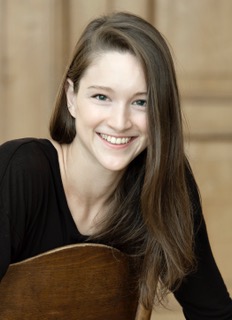 Andrea was born in the United States. Her professional ballet training began atthe JKO School of American Ballet Theater. She then explored modern and contemporary dance at the Alvin Ailey school, the San Francisco Conservatory of Dance (SFCD), Springboard Danse Montreal, gaga intensives in New York and Tel Aviv, and the summer program of Nederlands Dans Theater.
Andrea began teaching ballet, repertoire, and improvisation classes in 2014 during her career at Hubbard Street 2 in Chicago and continued as a part of the SFCD faculty every subsequent summer. While continuing to teach, she danced with Shen Wei Dance Arts, Nicole Von Arx and Guests, and Loni Landon Dance Projects in New York.
In 2017 Andrea moved to Luzern to dance for Tanz Luzerner Theater, where she remained until deciding in 2021 to focus on teaching and working toward an MAS in Dance Science at the University of Bern. In Switzerland, Andrea has taught ballet for beginners through professionals, Ballet Workout classes, inclusive dance, contemporary, and improvisation. Her teaching style is influenced by her work with Summer Lee Rhatigan, Tom Weinberger, Bobbi Jene Smith, Christian Burns, Bryan Arias, Christopher Roman, Alessio Silvestrin, Loni Landon, Ihsan Rustem, Caroline Finn, and Nicole Von Arx.
Stundenbeschrieb:
The class begins with guided improvisation focused on waking up sensation in the entire body. We will concentrate inside ourselves first, and then expand the awareness to the whole room and the people in it. Afterward we follow some structured pathways getting into and out of the floor and enjoy athletic and efficient ways of traveling through space. Next, we tap into communication, relating to a partner or a group. Tasks and games are used as tools for building spatial awareness, ownership of presence, and decision-making. In the last part of class, we will apply all our tools to a structured improvisation or to a choreographic phrase, with the aim of using movement to increase a sense of freedom.