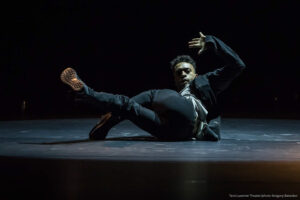 Carlos is a Belizean-American artist from Brooklyn, New York. He has worked internationally, performing with the Alvin Ailey American Dance Theater, the Metropolitan Opera Ballet, Rubberband Dance Group, Kibbutz Contemporary Dance Company, Stadtheater Ulm, and the Tanz Luzerner Theater in Switzerland. He has performed works by Crystal Pite, William Forsythe, Hofesh Shecter, Johan Inger, Bryan Arias, Georg Reischl, Fernando Melo, Itzik Galili, Inbal Pinto & Marcos Morau.
Recently, Carlos was an Emerging Choreographer for Springboard Danse Montreal in Canada in 2022. Along with his choreographic endeavors, Carlos is an active teacher, photographer, and filmmaker.
Stundenbeschrieb:
Contemporary Class: Quantum Flux
A movement practice aimed to connect to an innate sense of our body's inner and outside 'edges' through visualization of various modes of resistance, texture, and 'manipulation' of particles in space.
With a distinctive vocabulary, some inspired by quantum physics concepts, artists will play with articulation of the joints and stimulating neuromuscular connections to design the space with & around the body. Defining texture and sensational cues are the main focus to facilitate intrinsic strength and stability rooted in the core & pelvic floor, allowing for infinite spinal mobility. Structured as a guided, meditative improvisation, we start with a fine-tuning of the senses through sensations gradually building in intensity and technical elements through a continuous flow of movement. Artists will discover how to move through rather than to form, with suppleness, volume, and clarity within the spine and extremities. The movement research will culminate with a brief choreographic phrase to apply those discoveries in practice.