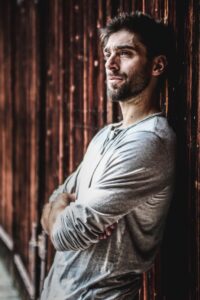 Originally from Italy, Dario is a professional performer, choreographer and movement coach.
Trained in ballet and contemporary dance he is a former dancer of AstraRomaBallet, Balletto di Toscana Junior, Aterballetto, Les Grands Ballets Canadiens de Montréal, Ballet BC and Tanz Luzern (formerly TLT).
As a freelancer, Dario also takes part in various projects through Europe and Canada, also pursuing and growing his expertise in street performing, dance theater and clowning.
Throughout his career, Dario has developed his own language as a choreographer. Appointed Artist in Residence with Ballet BC for two years (14/15, 15/16) as well as being commissioned by dance companies, universities, professional dance programs and festivals, his works have been presented in Italy, Switzerland, USA, Taiwan and Canada.
Actively involved in the growth of the dance community, since 2010 Dario has been invited to lead classes and workshops with professional companies, universities and dance programs such as Ballet BC, ArtsUmbrella, Lamondance, Modus Operandi, Simon Fraser University, (Canada); Ballet Preljocaj, Opera National du Rhin (France); Le Grand Theatre de Geneve, Ballet Basel, St. Gallen Theater, TLT, TanzHaus Zurich, IGTZ (Switzerland); Ballet Mannheim (Germany); B-Dance,  National University of the Arts (Taiwan); Codarts (Netherlands); SUNY Purchase, FluxFlow Dance Project (USA); NOD (Italy); among others…
In 2018, Dario also became a certified GYROTONIC® instructor.
After appearing in the mini TV-series "Edible People" and the movie "Phil", in 2020 Dario plays the main role in the short movie "YOKOMESHI" directed by movie director Domenico Cutrupi.
In 2022 he dances in the music video of the song 'La Certa' by the Italian rap singer Caparezza.
In 2020 Dario, together with the founder Mathilde Gilhet, became co-director of the pioneer online platform "WE Program" devoted to support and enhance the movement community around the world.
Ballet Class Description
This is a ballet class designed for classical and contemporary trained dancers.
Particular attention is given to the relationship between musicality and coordination, as well as prioritizing functional movement and the anatomy of the body.
With passion and joy I encourage anyone to approach this class as a tool to gain strength and awareness while improving versatility in moving between different dance styles and movement languages.