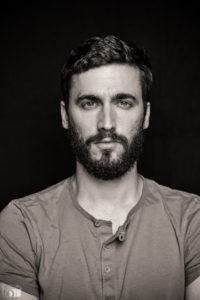 Igli was born in Tirana, Albania. Graduate of the National Ballet School of Albania, danced as a soloist at the "National Theater of Tirana" (Albania), "Cannes Jeune Ballet" (France), "Hessisches Staatsballett Wiesbaden/ Darmstadt" (Germany), "Ballet Prejocaj" (France), and "Compagnie
Linga" (Switzerland), TanzLuzern (Switzerland). Throughout this time he has worked and collaborated with: Jiří Kylián, Fréderic Flamand, Jean- Christophe Maillot, Davide Bombana, Marcos Morau, Angelin Preljocaj, Alexander Ekman, Jerome Bel, Cayetano Soto, Crystal Pite, Marco Goecke, Marguerite Donlon, Tim Plegge, Wayne McGregor, Hofesh Schechter, Alejandro Cerrudo, Jerome Bel, Po Cheng Tsai, Gustavo Ramirez Sansano, Ella Rothschild, Katarzyna Gdaniec, Marco Cantalupo, Mthuthuzeli November, Muhammed Kaltuk, Tom Weinberger to name a few. He has been involved in collaborations within the movie industry such as the opening ceremony of "Festival de Film de Cannes" for "The Great Gatsby" by Baz Luhrmann, as well as being casted in the short movie "The Key" (European Commission in Marseille, France). Igli was part of the artistic team of the opening of the Audemars Piguet new museum.
In September 2020 Igli graduated with a "licence in Arts" issued by the European Union. He has been invited to teach and lead workshops around Europe, South America, Asia and Australia and currently continues to collaborate internationally as a dancer, teacher and assistant.
Stundenbeschrieb
Igli MEZINI leads a physical and playful technique class that challenges the individual and coordinates the collective group. Together we will build the skills and awareness to move with speed and efficiency. The aim is to alternate between arches and spirals of the body in all directions possibly imagined. We will focus on creative tasks to discover our body using tools for composition which will be introduced integrating movement, spatial and rhythmic awareness. The class utilizes simple movement patterns that involve breathing, speed and the release of energy throughout the body in order to activate the relationship between the center and the joints, moving in and out of the ground more efficiently by maintaining a centered state.