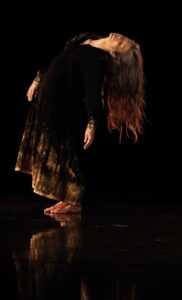 Léa Thomen is a Swiss-based French artist who lives in Winterthur, Switzerland. At the Folkwang University of the Arts in Essen, Germany, she completed a Master of Arts in Dance Composition program. She has collaborated with choreographers like Sarah Lisette Chiesa, Mark Sieczkarek, Jesse Zaritt, Urs Dietrich, Henrietta Horn, and Vanessa Voskuil. She started producing her own work in 2014. She was awarded the "Förderpreis Choreography" of the TanzPlan Ost Festival 2018 and La Société Suisse des Auteurs for the piece "Nachtfeder," which was created in 2017 in collaboration with Linda Pilar Brodhag. She established the Kompanie HorizonVertical in Thurgau in 2019 after it was founded in France in 2014. In 2020, TanzPlan Ost 2020, Phönix Theater Steckborn, and Théâtre Maison d'Elsa | Cie du Jarnisy (FR) co-produce her first solo production in Switzerland, "Masque-et-toi." She graduated from the HES-SO Valais-Wallis with a Bachelor of Science in Physiotherapy in December 2022.
www.lea-thomen.com
www.horizon-vertical.ch
Stundenbeschreibung
This movement technique aims to unite our body as a single organism, where each component is interconnected. Starting with guided exploration, which involves tracing lines and diagonals on the body, visualizing spirals, and stimulating the nervous system, will help us update or inform the physical representation of ourselves that we have. From a position of body ownership, we will progress to quick movement sequences that test coordination and put the emphasis on precise spatial direction, different movement qualities, and eye presence. This practice will conclude with a choreographic phrase that will incorporate the learnings in a particular order that relates to my current choreographic research.