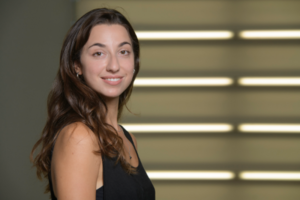 Lida Doumouliaka born in Athens, Greece in 1994, is a choreographer, dancerand musician. She finds her artistic interest in combining her music compositions with creative dance material.
After Graduating from the Greek National School of Dance in 2016, she performed for Hellenic Dance Company, repertoires of many important choreographers such as Akram Khan, Martha Graham, Jasmin Vardimon etc.
Alongside she began to choreograph and experiment in composing the music for her own creations. She has participated with her works in some Greek and international Dance Festivals and she has been working as a freelance choreographer, musician and dance teacher.
In 2018 she became a member of Simone Mongelli's Body Music Company, where she has been performing as a singer and body percussionist until today.
Since 2020 she has been living in Zürich of Switzerland where she also completed her Master Degree in "Dance, Choreography" in Zurich University of the Arts. During this period she managed to choreograph and work with "Malpaso" Dance Company of Cuba as well. Currently she experiences her journey to the international professional dance scene preparing her two new choreographic projects for the upcoming season.
Stundenbeschrieb
In this class we are going to practise through some movement sequences based on Release Technique. Starting from the floor we will pass through the medium level to standing combinations and transfers in space, reaching handstands and jumping exercises. Practicing with this material will help us focus on our technique, work on our flow, define the movement qualities through musicality and improve our memory. Through a physical movement vocabulary we wish to activate the best of our abilities, connect our mind, body and senses but most importantly enjoy this dancing workout to the maximum.