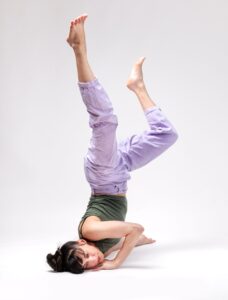 Born in France, Mathilde Gilhet danced professionally with the Luzerner Theater (CH), the Ballet Junior de Geneve (CH), FluxFlow Dance Project (USA), Alias Company (CH), Teatro Nacional São Carlos (PT), The French Embassy in Portugal, and Quorum Ballet (PT).
She is the Associate Artistic Director of On Board(hers), an all-women dance project based on the testimonies of female immigrants, and an international judge for recognized dance competitions such as Youth American Grand Prix and Dance World Cup.
As a movement instructor, Mathilde has been working as the Head of the Contemporary Dance Program at FLUX + FLOW Dance and Movement Center in Columbus (USA), she was a full time faculty member for Arts Umbrella in Vancouver (CA) and she is now a guest instructor for professional dance companies and pre-professional dance programs.
In 2020 Mathilde founded the WE Program, an international self-sustainable platform dedicated to movement lovers, offering low-cost education opportunities and supporting the development of artistic projects.
Recently, Mathilde choreographed "GOAL", a dance film produced by Jacob Jonas The Company (US).
Class Description:
Drawing inspirations from diverse movement practices such as martial arts, breakdance and animal locomotions, this workshop is emphasizing on Contemporary Dance technique build-up with a strong focus on floor work.
The warm up will prepare the mover physically and mentally before their practice and execution. Based on cardio combinations alongside movement flow with circular motions and spirals, this warm up will provide a better awareness of the whole body.
The second part of this workshop focuses on a series of body locomotion used as a tool to explore the mechanics and coordinations of our own anatomy. Studying organic movement, with different qualities and dynamics such as balancing, swinging, stabilizing, rolling, falling, and melting down will aim to find smooth transitions to and from the floor.
Gradually increasing in complexity with longer sequences, the last part of this workshop will help developing individuals' approach to moving and performing confidently.
The work aims to be accessible to a wide variety of movement backgrounds and disciplines, including dancers, circus artists, fighters and attempts to give beginners and more advanced practitioners access to this practice. All phrases and exercises delivered have a variety of alternate movements for different levels and individuals abilities.